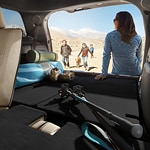 The Ford Explorer is one of the finest SUVs that money can buy. This amazing SUV provides plenty of cargo space, and it possesses plenty of enjoyable amenities. Some of the most cutting-edge advancements can be found with this model in the technology and performance departments. There are also multiple trim levels to choose from.
The Ford Explorer is a road warrior thanks to its exceptional features. The SUV is aerodynamically designed to cut through the breeze with ease. Consumers will have access to a variety of powertrains, but your exact powertrain is contingent upon your trim choice. EcoBoost technology is built into the engines, which helps to increase efficiency as well as deliver a steadier stream of power throughout the powerband. There's also a 400-horsepower engine that comes in 3.5-liter.
More information is available, but you'll need to speak with one of our knowledgeable reps by visiting our location.