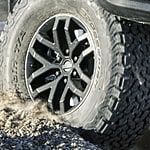 Interior design is rarely a strong focus when it comes to pickup trucks. That, however, is not the case for the Ford F-150 Raptor. This pickup is filled with appealing inside features that will make Franklin drivers pleased with the F-150's cabin.
This dependable off-road Ford pickup truck can be enhanced with the outstanding Raptor 37 Performance Package. With this addition, your F-150 Raptor's cabin will be ready to impress not only you but also your riders. The front RECARO seats are both supportive and comfortable, and you will certainly appreciate them while driving your Raptor across brutal off-road surfaces.
What else comes with the Raptor 37 Performance Package, though? Interior accents made from carbon fiber are sure to catch your eye. Additionally, A. Crivelli Ford Inc. expects the Code Orange stitching of this package's Rhapsody Blue seats to complement the Alcantara Suede inserts quite well.