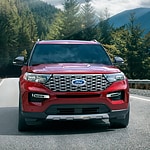 Do you ever wish you could become a better driver? The Ford Explorer is a subcompact sport utility vehicle that can perform select braking maneuvers. The following capability features will enhance your confidence on the road by helping you master this important driving skill.
Backing out of Franklin parking spots can be quite difficult and easily lead to accidents. The Explorer's rear brake assist system applies the brakes when onboard sensors detect a moving object or pedestrian in your path. This feature can help you stop short of a collision.,
Another feature A. Crivelli Ford Inc.
Read More